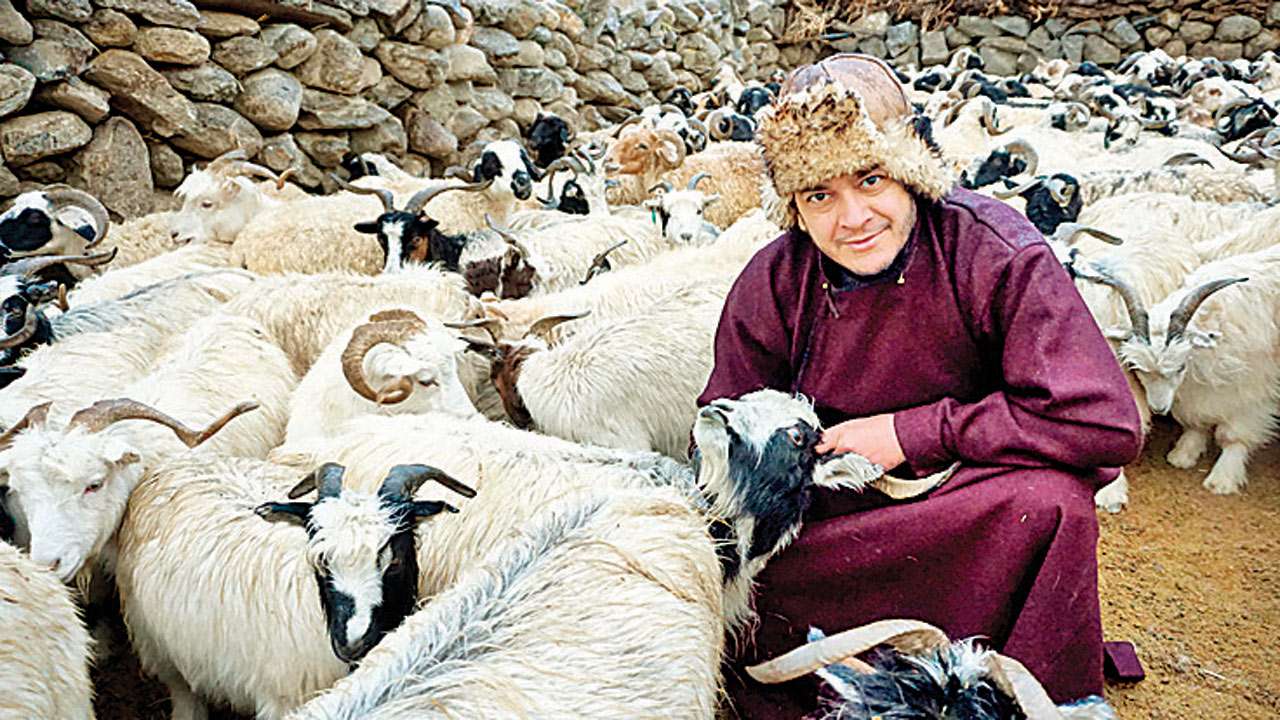 Fashion czars have something to celebrate after technology came to the aid of 'Brand Kashmir' to preserve the purity and exclusivity of handmade Kashmiri Pashmina shawls.
Thanks to Nano-technology, those exquisite handmade shawls are now ingrained with a Secure Fusion Authentication Label (SFAL) containing a unique eight digit alphanumeric code and invisible nano-tangent particles that can be seen only by the infrared light.
"We fuse the SFAL on the shawl at 116 degrees Celsius. It is PVC material and fused on protein material of Pashmina. Once fused, this label cannot be removed as a whole. If anyone tries to remove it, it will destroy the shawl. Eight digit alphanumeric codes are unique to every fabric product. There will be different numbers in every shawl no matter the quantity," said Younis Farooq, Manager Executive, Pashmina Testing and Quality Certification Centre in Srinagar, Jammu and Kashmir.
Pashmina is fine wool extracted from a goat found in the cold desert of Ladakh. The wool is used by the artisans and craftsmen of Kashmir for making the exquisite handmade shawls that have a huge demand world over. A plain 100 per cent handmade Pashmina shawl sells at Rs 10,000 at the manufacturing level. Design and embroidery works on the shawl determines its ultimate market value. Intricate embroidery and design can push the cost of Pashmina fabric including shawls to Rs 5 lakh or more.
Pashmina is among six traditional crafts of Kashmiri origin including Sozni-embroidery, Kani-shawl, Papier-Mâché, Khatamband and Walnut Woodcarving that have been granted Geographical Indication (GI) symbolising their exclusivity in the international market.
Under the nanotechnology process, there are overt and covert marks in the SFAL that protect the authenticity and purity of the handmade shawls. The overt marks, which could be read by naked eye, include alphanumeric code, which is unique and haphazard that cannot be predicted.
The covert marks, including the nano-tangent particles which are haphazardly hidden in the SFAL. These particles produce green reflection when those are exposed to infrared light. Plus there are certain hidden things – like 100 per cent handmade and GI registered – in the label which get exposed in the ultraviolet light.
"There is a proper procedure which has to be followed for this process. A person who wants to get his products tested needs to be an authorised user. An authorised user can be Kashmiri artisan, manufacturer or trader. He needs to get himself registered for GI facility in Chennai. After that he has to be empanelled with Tahafuz artisan society here," said Younis.
Pashmina activists, however, said the focus should be on the hand craft rather than technical specification, given the huge market share of China in the world.
"Our market share is only 0.6 per cent. China has 71 per cent market share. If you give 10 technical specifications, China will come up with 20 and confuse the people. Our focus should be on the hand craft. We test basic fibre, which everyone else does. So we should focus on hand craft – our strength," said internationally renowned Pashmina activist, Babar Afzal.
Figures and facts
Handicrafts are one of the mainstays of Kashmir's economy with lakhs of people associated with this trade in the strife-torn valley. Official figures reveal that Kashmir exported handicrafts worth Rs 1,059.41 crores in 2015-16. Of which Rs 376.69 were shawls. Similarly in 2016-17, the handcrafts exports were to the tune of Rs 1,151.12 crore which includes Rs 304.05 shawls. Exports In 2017-18 was recorded at Rs 1,091.12 crore of which Rs 284.13 was shawls. From April 2018-December 2018 the handicraft exports were to the tune of Rs 655.73 crore of which shawls were Rs 208.22 crore.
["source=dnaindia"]