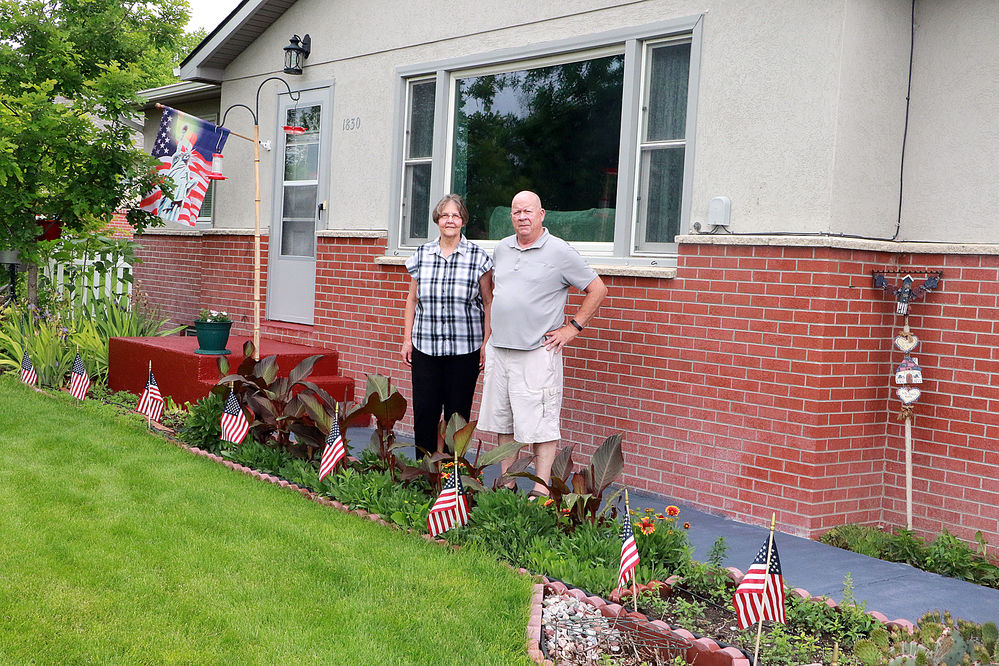 GERING — After moving into their Gering home in 2002, Russ and Priscilla Wobig began gardening, a passion that showcases the different colors and climates from their travels. The Wobigs' garden displays Southwest influences from Russ' time working on irrigation projects across the region as well as Priscilla's interest in the Bellingrath Gardens in Mobile, Alabama.
"We have cacti from New Mexico and Arizona," Russ said. "All projects I was working on working irrigation."
The Wobigs own one of six homes that will be featured in the 27th annual Theatre West Garden Walk Twilight Tour June 30 from 4 to 8 p.m. Theatre West's annual Garden Walk Twilight Tour features six area gardens in Morrill, Scottsbluff and Gering. The 27th annual fundraiser will allow participants to go on self-guided tours through creative and beautiful gardens filled with flowers, trees, shrubs and water features.
While walking through their garden, inspiration from the High Country Gardens in Santa Fe, New Mexico, are also on display. Throughout their garden, the public will see a unique diversity of plants that grow in climates from the Rocky Mountains to Beijing, China.
"This came from a special project in Shanghai," Russ said, talking about a climbing bamboo in the garden. "The guy didn't even want to sell it because he said it wouldn't survive our winters. These are two climbing bamboos. One is from the Shanghai province and this one is from around Beijing."
Some of the plants include bamboo, sage, fruit trees, cacti and even fairy gardens.
Priscilla recently became interested in fairy gardens and has a couple throughout the backyard.
"They're just fun to do," she said. "It became a fad a couple years ago, so I started looking at them."
The fairy house lights up at night and reminds them of their trip with their daughter and son-in-law to Michigan.
While looking around the garden, Priscilla said there are stories and family memories planted with the bushes and trees in the garden. One of those plants is the grapevine growing on the east fence.
"That's a grapevine from my dad, who passed away years ago," she said. "There's five of us kids and wherever we've moved, we've dug up a little grapevine and it's always grown for us."
Overhead, visitors will see hanging pots, which the Wobigs made out of gourds with the help of their grandchildren.
"That gourd there and the gourds shaped like balloons are all gourds he's grown," Priscilla said. "It's just something he does."
After letting the gourds dry out, Russ paints them with his grandkids. Two gourds he is currently letting dry out will become swans.
As Russ traveled the country, he brought back rocks from those regions to include in the landscape. Requesting help from their grandchildren, they removed 3,000 square feet of sod from their back yard and used wheel barrels to dump 60 tons of river rock. Along the west edge of the backyard are volcanic rocks Russ collected while working around Mount St. Helens volcano in Washington.
"I worked 60 miles east of Mount St. Helens," he said. "When you get 40 miles from Mount St. Helens, the rocks get to be the size of semi trucks and you can't move them."
As the Wobigs prepared for their first garden walk, the spring weather impacted the growth of the plants.
"Everything is slower and a lot of blooms haven't happened," Priscilla said.
When the public walks through their garden, the Wobigs hope people find the backyard atmosphere peaceful.
Aside from the bamboo, the most rare plant in the Wobigs' garden is a mountain carrot. Russ said the miniature carrots have a bitter taste.
To go on the garden walk, the public needs to purchase tickets. Tickets purchased in advance are $15. Tickets can be purchased at the Theatre West box office, from Theatre West board members, Gering Garden Center, ABC Nursery, Compliments, the Mixing Bowl, Peaceful Prairie and Great Gardens.
Tickets can also be purchased the day of the garden walk for $18. Children 10 years old and under are free.
The Garden Walk is sponsored by Theatre West and the event is a major fundraiser to help bring in theater productions to the area.
["source=starherald"]