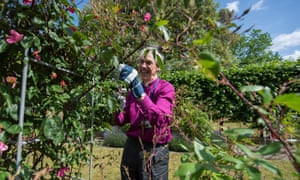 Churches should offer their green spaces as gardening projects for people with mental health problems, a senior Church of England bishop has said.
Studies had established the therapeutic benefits of gardening, said James Newcome, the bishop of Carlisle and the C of E's lead bishop on health issues.
He said: "Churches should look at the land they have around their buildings to see if there's any possibility of people who are homeless or have mental health difficulties or who are lonely [getting] involved in hands-on gardening.
"In urban areas there is a real shortage of green space, and churches often have the only green space in a neighbourhood. In rural areas there are real problems of isolation and loneliness. There are all sorts of benefits – therapeutic, meeting up with others, finding a sense of belonging and purpose. [This idea] is not complicated but it can make a huge difference."
Newcome was speaking on Wednesday at a conference at Lambeth Palace, the London headquarters of the archbishop of Canterbury, to promote gardening and mental health. The garden at Lambeth Palace, stretching over 10 acres, is one of the oldest in England.
A survey of clergy last year showed that mental health issues were one of the main problems they encountered in their parishes, along with loneliness and homelessness.
David Shreeve, who advises the church on environmental issues, said: "There are 16,400 C of E churches, many with unused spaces around them, and often in difficult urban areas with homes without gardens and few parks. There are people who have never done any gardening before but when they plant a seed or bulb, nurture it, see it sprout and grow, it has an enormously positive effect."
Among the speakers at the conference was Jonathan Aitken, the former Conservative cabinet minister who went to prison for perjury. He was ordained as an Anglican deacon last year and is now training to be a prison chaplain.
"There are astonishing mental health problems in our prisons, including self-harming and suicides. Could gardening make a difference? I think it might," said Aitken, who said he worked in the gardens of HMP Standford Hill during his prison term.
Aitken said he was involved in discussions about a possible gardening projectinvolving the Young Offender Institution Feltham and a nearby church with a "big wilderness of a garden".
"Gardening slows you down and calms you down. You have all these troubled, testosterone-fuelled, aggressive young men. It might help to get them out of the concrete spaces of prison into the fresh air," he said.
Rachel Kelly, a mental health campaigner and author, said people with depression found it hard to cope with big demands but gardening was "very scaleable". She added: "Even on a really bad day you might be able to snip a rose or sweep a path, and that gives you a sense of achievement."
As the crisis escalates…
… in our natural world, we refuse to turn away from the climate catastrophe and species extinction. For The Guardian, reporting on the environment is a priority. We give reporting on climate, nature and pollution the prominence it deserves, stories which often go unreported by others in the media. At this pivotal time for our species and our planet, we are determined to inform readers about threats, consequences and solutions based on scientific facts, not political prejudice or business interests.
More people are reading and supporting our independent, investigative reporting than ever before. And unlike many news organisations, we have chosen an approach that allows us to keep our journalism accessible to all, regardless of where they live or what they can afford.
The Guardian is editorially independent, meaning we set our own agenda. Our journalism is free from commercial bias and not influenced by billionaire owners, politicians or shareholders. No one edits our editor. No one steers our opinion. This is important as it enables us to give a voice to those less heard, challenge the powerful and hold them to account. It's what makes us different to so many others in the media, at a time when factual, honest reporting is critical.
Every contribution we receive from readers like you, big or small, goes directly into funding our journalism. This support enables us to keep working as we do – but we must maintain and build on it for every year to come.
["source=theguardian"]